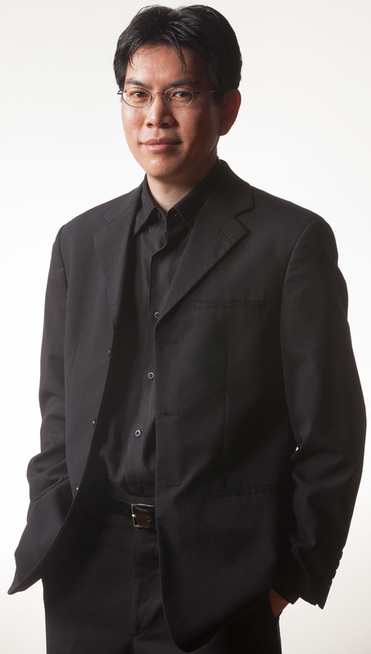 Photo by Paul Leavy
Howard Hsu is the Music Director of the Valdosta (GA) Symphony Orchestra, which performs a vital cultural role in the South Georgia region, and he also serves as Assistant Professor of Music and Director of Orchestra Studies at Valdosta State University. Under his leadership, the Valdosta Symphony was selected as the 2014 winner of the American Prize in Orchestral Performance (community division). Hsu has performed with Robert McDuffie, Simone Dinnerstein, Jennifer Frautschi, Wendy Warner, Rachel Barton Pine, Stanford Olsen, Alexander Ghindin, Alexander Schimpf, Katia Skanavi, Awadagin Pratt, Amy Schwartz Moretti, and the Empire Brass. He conducted the world premiere of James Oliverio's Trumpet Concerto No. 1:World House, the U.S. premiere of Ned McGowan's Concerto for iPad and Orchestra (Rotterdam Concerto 2), and has given the Georgia premieres of Fernande Decruck's Sonata for Saxophone and Orchestra, several of the Debussy/Matthews Preludes, and Jonathan Bailey Holland's Motor City Dance Mix. Through the Symphony's Youth Concert Series, he has introduced live classical music to thousands of children in the area.

Howard Hsu has appeared as a guest conductor with Hartford (CT) Symphony Orchestra, Macon (GA) Symphony Orchestra, New Britain (CT) Symphony, and Bronx (NY) Arts Ensemble, with whom he conducted the world premiere of Eleanor Cory's O'Keeffe's Flora. He was a Visiting Assistant Professor of Music at the University of Connecticut and Associate Conductor of the University of Connecticut Symphony Orchestra, and was Visiting Instructor of Music and Director of the Orchestra at Connecticut College. Other positions held include Cover Conductor with the Westchester (NY) Philharmonic and Music Director of the Noe Chamber Symphony (CA).

Howard Hsu has worked closely with groups dedicated to training young musicians, including the Lake George (NY) Opera Festival, where he served as Associate Conductor and Music Director of the Apprentice opera scenes concerts. Hsu has conducted the Pennsylvania Music Educators Association All State Orchestra, Georgia Music Educators Association All State 9/10 Orchestra and District 12 High School Honor Symphony Orchestra, Fulton County High School Honor Orchestra, Massachusetts Music Educators Association Central District Senior High School Festival Orchestra, Governor's Honors Program Orchestra (GA), Greater Waterbury (CT) Youth Symphony, and Greater Bridgeport (CT) Youth Orchestras. Through the Hartford Symphony's Mentoring Program he served as a Master Teaching Artist, and was a faculty member with The Harlem (NY) School of the Arts.

Howard Hsu received his D.M.A. from the University of Connecticut, his M.M. from the San Francisco Conservatory of Music, and his B.S. from the Wharton School of the University of Pennsylvania. He has conducted in masterclasses with Gerard Schwarz, Zdenek Macal, Yoel Levi, Larry Rachleff, Thomas Wilkins, Edward Cumming, Alasdair Neale, and Leif Bjaland. Mr. Hsu resides in Valdosta, GA with his wife, soprano Tamara Hardesty, and his children Hudson and Delancey.
---